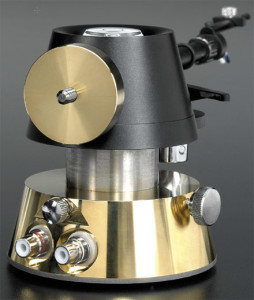 Na pomyslném vrcholu v absolutní světové špičce gramofonových ramének stojí řada Rigid Float japonské společnosti Viv Laboratory sídlící v Jokohamě. Mozkem stojícím za tímto technologickým počinem je Koichiro Akimoto-san.
Není divu, že kromě dalších ocenění získal produkt Rigid Float titul "Raménko Roku 2013" magazínu Image HIFI (Německo) a "Nejžádanější komponenty roku 2013" magazínu The Srereo Times (USA). .

OIL FLOATED PIVOT – ViV Lab's original oil floated pivot (magneto-fluid = magnetically induced oil) not only gives perfect bearing performance but also isolates the arm from the vibration via floor or turntable. At the same time this pivot shuts out the reflection of the vibration generated by the stylus. As a result, the sound has highest purity with high dynamics, sharp focus and very low distortion. We are sure no one has ever experienced such a sound from vinyl disks.
NO OFFSET-ANGLE STRUCTURE – We believe that elbow shaped arms with offset angle and overhang setting seriously affect the sound quality because of side force fluctuation which can never be cancelled by an anti-skating mechanism. So we dare to choose a completely straight structure. You may ask "…what about tracking errors?", and the answer is – the tracking error is a little bigger but the sound is better. You can hear no distortion even with the 7″ model.
EASY INSTALLATION – Unlike other tonearms, "Rigid Float/Ha" is very easy to install. You don't have to drill your turntable plinth. Just put it anywhere on the turntable plinth. You can also put it outside the plinth of your turntable, f.i. the 13″ version of the tonearm (template for optimum installation provided).
Silk jacketed 4N silver inner wire and rhodium plated terminals ensure minimum signal loss.
Available in 3 lengths – 7″, 9″ and 13″ and 2 color variations – Black/Metallic and Black/Gold.
Latest version of the tonearm (Rigid Float/Ha) provides easy Azimuth adjustment.
The Rigid Float/Ha tonearm comes with ViV Lab's original "Nelson Hold" headshell. This headshell provides a special "Press Screw" that can be tightened or loosened for resonance control of the cartridge.
Vyberte si správné gramofonové šasi a kvalitní přenosku pro váš gramofon.